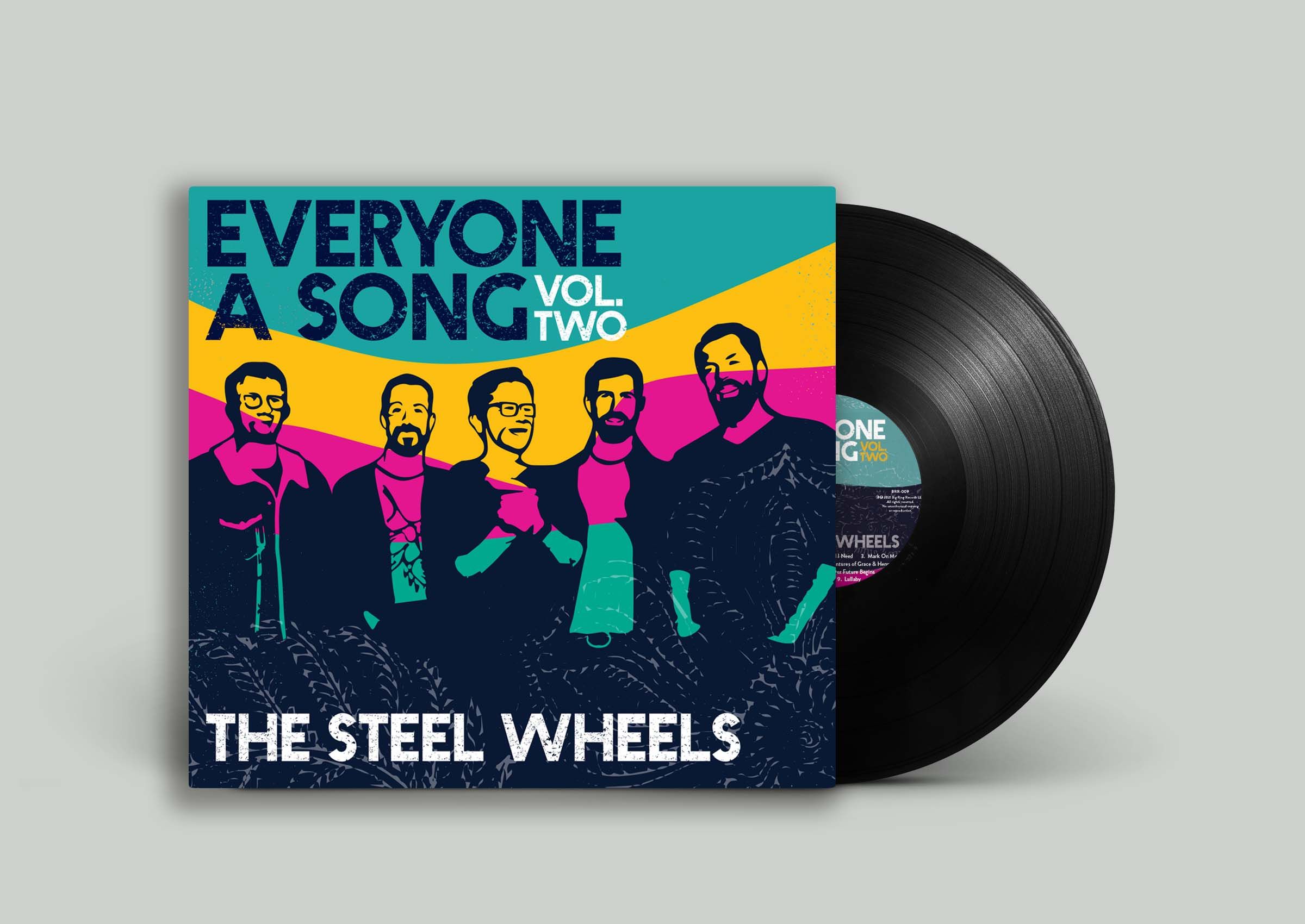 Everyone A Song, Vol. Two Available Now 
Storytelling is power.
As many people around the world were isolated from their communities, The Steel Wheels chose to connect with their audience in new and profound ways. Unable to perform their rootsy brand of Americana for crowds of people in live settings, the musicians turned their creative powers to crafting songs for individuals. The result is an ongoing project, represented here in Everyone A Song, Vol. 2 and an accompanying podcast, We Made You a Song, in which songwriter Trent Wagler collects the personal experiences of fans and forges them into that most enduring yet ephemeral format we call "song."
Inevitably, these songs celebrate connection. Each was commissioned for a specific relationship or event, a birth, a wedding, a memory of home, yet the emotions evoked are universal. Building on the body of work begun with Vol. 1, the 9 songs of Vol. 2 also have an identity of their own, with themes that reflect the zeitgeist of a country dealing with tragedy and unsettling change. Lead off track Where I'm From introduces the tension between nostalgia and progress while showcasing the band's deft balance of traditional instrumentation and driving rhythm. In Time Is All I Need, a folksy new-soul anthem, Wagler sings, "It Takes Time, Sometimes so much time, To welcome a reason not to stay the same." The Steel Wheels, never content to stay still, continue to move forward with intention and authenticity.
To write another's story is to truly see them and recognize our shared humanity. In doing so, The Steel Wheels are attempting to subvert the divisions of the attention economy and create connections of beauty through the power of song. 
Praise for Everyone A Song
"With Everyone A Song, the Steel Wheels have risen to the occasion, offering poignant moving stories of their fans (and friends)." -Lyric Magazine UK
"With strong compositions, stellar musicianship and harmony vocals that are particularly impressive when considering the remote process employed to record and mix them, "Everyone A Song, Vol. 1" succeeds with anticipation for a second volume." -Country Standard Time
"Wagler and the rest of the Steel Wheels — Brian Dickel, Jay Lapp, Eric Brubaker, and Kevin Garcia — have found a way to make the most out of what's been dealt to all of us in a difficult year. In doing so, they've found a way to not only bring their music closer to their fans, but to bring their fans closer to each other."  -No Depression